PATLETTER Issue No. 18
February 15, 2023

Pro Machine Reporting and Monitoring with PATLITE's WD Wireless Data Series


Out with the old, in with the new. Don't fall behind the times with old equipment that doesn't provide adequate reporting and monitoring – modernize your workplace with
PATLITE's WD Wireless Data Acquisition System
and receive real-time status alerts straight from the factory floor to any computer. Simply attach a wireless transmitter module to an existing PATLITE signal tower (old or new) and connect that to the WD wireless receiver to enable remote equipment management so that analysis can be done by operators and managers outside of the plant floor. Integration into existing factory configurations is made easy, too, as the WD System enables wireless data acquisition of equipment statuses, regardless of the machine's age or model. With this streamlined approach, PATLITE's WD wireless data acquisition system is made for businesses looking to take the stress and manual work out of machine reporting and monitoring and reduce labor and time, which can increase uptime and save money.
Data Reporting
Machine and equipment data reporting has never been easier and more effective as PATLITE's WD system collects data from the receiver and outputs it to a CSV file to improve operational efficiency. With this, you can obtain error-free reporting void of inaccuracies and inconsistencies associated with manual reporting. This data can then be collected and analyzed to improve predictive maintenance, identify bottlenecks and maximize OEE. More data means more thoughtful decision-making at a high level.
Remote Monitoring
Thanks to the WD System, It's finally OK not to be present all the time on the factory floor just to ensure everything is running smoothly and as intended. The WD system enables real-time monitoring of production lines, quickly identifying congestion and addressing them as a result. This can help determine the severity of the machine issues for more effective predictive maintenance while being remote.


PRO Model
Are you looking to take PATLITE's WD System to an even higher level? Look no further than the WD PRO Series. The WD PRO Series features additional data points and collaboration protocols for further visibility of devices within your network. It consists of an enhanced version of the transmitter and receiver and a base unit for serial communication. Additionally, you can run multiple applications simultaneously, like Modbus, CSV reporting, socket communication and more, with the WD PRO Series. Gather and analyze more data in real-time to make smarter, data-driven decisions with professional-grade monitoring and reporting from PATLITE.
Application Examples
Equipment Operation Data Acquisition
A factory does all of its machine reporting by hand and takes it at the end of the business day when operators are present. However, overnight, machine stalling can also occur, which is not reflected in the day reporting and can result in revenue losses. The WD Wireless Data Acquisition System automatically records equipment operation information 24/7, allowing operators to identify trends and pinpoint machine downtime, eliminating the need for manual reporting that is limited to the end of the business day.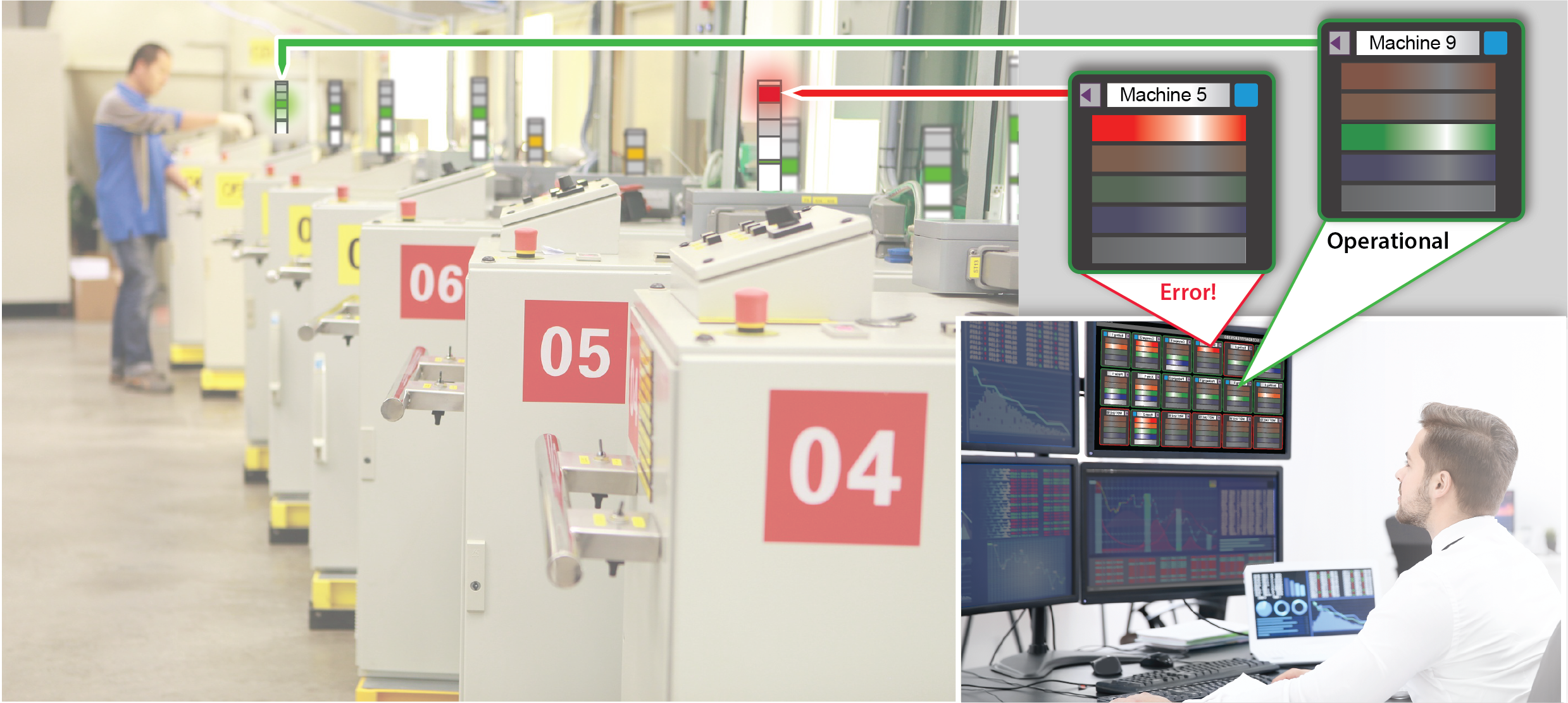 Production Monitoring
A company operates several manufacturing facilities in different locations and has no system in place to remotely monitor machines in real-time. Their goal is to modernize their facilities by allowing information sharing among all facilities to improve company-wide productivity and maintenance. Introducing the WD System to their factory configuration enabled them to monitor all of our production lines in different locations remotely and help them identify machine errors before they occur in other locations.
Modernize Your Factory Today
Old equipment can hinder the capabilities of modern facilities in many ways. They allocate valuable time and budgets to antiquated factory configurations that do not report or monitor accurately or efficiently. These days, wireless data acquisition systems are crucial to modern factories' success, especially when deployed as part of an IIoT network. PATLITE's WD Series collects and analyzes equipment data, visualizes processes and improves productivity, with the ability to access and monitor plant-wide manufacturing data for operational visibility, predictive maintenance and interconnectivity among machines, components and people. Improve your production efficiency and increase profits today with PATLITE's WD Series.



Learn More
Consider following us on LinkedIn, Facebook, Twitter or YouTube for exclusive, up-to-date company news, video applications and the latest information on new and upcoming products from PATLITE.